Toothbrush and brushing: tips for proper oral hygiene
Toothbrush and brushing are fundamental and indispensable parts for correct oral hygiene.
To improve the effectiveness of tooth cleaning, it is necessary to pay close attention to the type of toothbrush used and the methods of brushing.

What characteristics must a toothbrush have for a thorough cleaning of the teeth?
There is the false belief that a toothbrush should be chosen only on the basis of the hardness or softness of the bristles, in reality the toothbrush, as well as toothpaste, is composed of several elements and each of them plays an important role in choosing the right one .
Let's start from the top of the toothbrush: the brush head. The head of a toothbrush should not exceed 2.5 cm in length for a maximum of four tufts of bristles in width. The end of the head should always be rounded to prevent accidentally scratching the gums and palate. Some toothbrushes are equipped with rubber parts (usually the external parts to the bristles) for the massage of the gums and for cleaning the tongue (parts placed behind the head).
The most common toothbrush is the one with medium bristles, however it would be advisable to use a brush with soft bristles after a dental intervention in order not to irritate the affected part.
Another element not to be overlooked is the handle. A good toothbrush should always have a slightly curved handle to allow you to position your thumb and provide the right brushing pressure, as well as a non-slip part is needed to prevent slipping from the hands of the toothbrush to hit and damage the tissues of the mouth.
An always valid precaution is to replace the toothbrush every month.
Brushing: how to use a toothbrush correctly?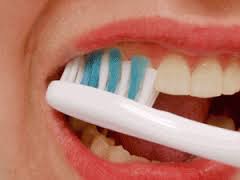 Teeth brushing must be carried out by positioning the brush at an angle of 45 ° with respect to the surface of the teeth. For the upper arch, the rotational movement must proceed from top to bottom, from the gum to the teeth; vice versa, for the lower arch, from the bottom upwards, keeping the rule of a rotary movement that always starts from the gums, the best way to remove the plaque.
Subsequently we will proceed with the cleaning of the chewing part, the space between the cusps of the teeth is in fact a fertile ground for bacteria, so it is good to brush the surface by moving the toothbrush back and forth.
In some cases, especially in the presence of prostheses, for better oral hygiene it is recommended to use tools complementary to the brush: interdental brush, floss with different thicknesses (superfluoss), classic floss, all useful aids to remove plaque in areas where the bristles of the toothbrush fail to arrive.
Proper and constant oral hygiene prevents many pathologies related to the proliferation of plaque and tartar, it is always a good rule to book a dental cleaning session with your dentist at least twice a year.
https://www.sanident.com/wp-content/uploads/2016/11/spazzolino_spazzolamento.jpg
301
855
Redazione
https://www.sanident.com/wp-content/uploads/2020/05/Logo_Sanident_2_600.png
Redazione
2016-11-29 11:07:32
2020-01-24 16:53:49
Toothbrush and brushing: tips for proper oral hygiene