[shortmenu menu="Menu Implantologia" display="inline" enhance="true" submenu_color="#000000″ submenu_anchor_color="#e0e0e0″ submenu_anchor_hover_color="#ffffff" submenu_transparency="0.8″ arrow="true" is_responsive="true" responsive="767″]
An implant operation is a full-fledged surgery and, as such, presents some risks that we will examine on this page. Let's start by saying that even over-the-counter drugs are not without risks and, as in any branch of medicine, it is the experience of the implantologist that makes implantology a basically safe intervention.
Now we analyze the risks related to implantology and the guarantees that a good dentist or a professional dental clinic can offer to the patient.
Risks
It is widely believed that the most common risk is the "rejection" of a dental implant. This idea, besides being wrong, is only a fear of the patient who finds no correspondence in reality: dental implants, today, are made with biocompatible titanium materials, which the body does not perceive as strangers and there is no hence the risk of rejection.
Here, then, are the real risks of an implant surgery:
Failure osseointegration
The term "rejection" is used improperly and would correspond more precisely to a problem of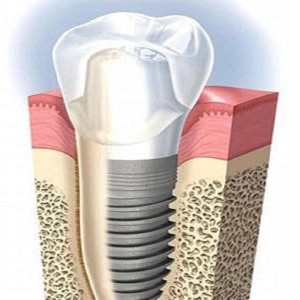 integration between implant and bone, a condition that is not very likely today. The lack of osseointegration is no longer a problem if we consider product innovation by companies that make dental implants (biocompatible materials) and the use of advanced technologies that allow a precise analysis of the patient's oral situation, to starting from the measurement of bone density and volume.
When osseointegration does not take place, the causes must generally be intercepted in a previous problem of the patient or in bad habits. In particular:
inflamed gums, pyorrhea or periodontitis. In these cases it will be necessary to treat the inflammation before proceeding with the implant;
smoke. This is a bad habit that can compromise the patient's oral health. Sarebbe bene smettere di fumare o, quantomeno, ridurre drasticamente il numero di sigarette durante il periodo di osteointegrazione;
poor bone density. Modern technologies allow the detection of all the parameters necessary for the analysis of the dentist: bone, density and volume. It will be easier to identify the right implants to facilitate osseointegration;
inadequate surgical techniques. The inexperience of the dentist who is the most probable cause of the failure of an implant surgery.
Bone atrophies or poor bone density
Bone plays an important role in the osseointegration process which, however, occurs at a later stage. During surgery a good bone makes everything easier. If you are in the presence of bone atrophy (or low bone presence), on the contrary, the intervention will require more attention and more in-depth analysis.
In more serious cases, such as bone atrophy, the experience of the implantologist and the solutions offered by modern implantology will be relied upon: small implants, inclined implants or, in extreme cases, bone grafting.
inexperience
Inexperience could not be included in the list of risks for a patient facing implantology treatment. Relying on inexperienced dentists is one of the greatest risks even if, perhaps, it is the least perceived of all.
What are the major causes of an implant failure? Inexperience and superficiality in the evaluation of the problems. Planning is essential for optimal success of the intervention.
Guarantee of the result
We could summarize what has been said so far by saying that:
in medicine, nothing is risk free;
the risks related to implantology, compared to other branches of medicine, are limited and, generally, it is possible to intervene again to remedy small problems that occurred in a previous operation, as could happen in case of failed osseointegration;
Repetita iuvant, The Latins used to say and, therefore, we reiterate that the guarantee of a good result is obtained only by choosing the experience. Our clinic, specialized in Implantology in Milan uses a team that has 1500 interventions a year, our implantologists are all specialists, enrolled in the order of doctors and dentists with specific masters at major international universities such as New York University, many of them are university professors and speakers of courses and conferences on implantology and regenerative surgery. To distinguish our work by guaranteeing the patient, the selection of high quality materials such as the Aiser, Straumann, Nobel and Dentsply implants, to name a few.
The patient who turns to the Sanident center will get a dental implant with a guarantee of international coverage and valid for life.
Do you want to undergo an implant surgery in Milan? Contact us and fix your first visit immediately.