Smoking cannabis increases the chance of periodontitis
These days, Parliament is discussing the legalization of cannabis and we take the opportunity to talk about the relationship between marijuana use and periodontitis. Cannabis is the most consumed drug among Italian teenagers. 26.7% of young people between 15 and 19 have taken it at least once in their life while 15% have used it at least once in the 30 days preceding the survey, this is what emerges from the 9th monitoring report of the CRC Group (Working Group for the Convention on the Rights of the Child and Adolescent).
More generally, analyzing the data of the Department of drug policies, cannabis users in Italy are around 10% of the population aged between 15 and 64.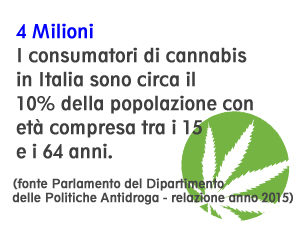 The damage that prolonged use of soft drugs can cause has often been mentioned in many scientific articles. In them, the emphasis is often placed on brain consequences while dental diseases, the occurrence of which is linked to the use of marijuana, are rarely treated in depth.
A study published in 2008 on JAMA Psychiatry focuses on the correlation of prolonged use of cannabis and the appearance of dental problems, in particular periodontitis.
The study was conducted on a sample of 1,037 people aged between 20 and 38 years, 47.2% of those who use light drugs regularly, starting from age 30, have cases of periodontal disease.
Periodontitis initially presents with a simple gingivitis, the first symptoms are in fact redness and bleeding of the gums.
Subsequently, however, the situation degenerates and the tissues that support the teeth undergo a progressive wear to the point where the recession of the gingival walls occurs. The latter phase in its most serious and critical demonstration can lead to tooth loss.
It would not be smoke that directly affects the tissues but the absorption of the toxins present in marijuana by the whole body. The presence of toxins in the blood has a dangerous effect on the ability to counteract the inflammations that bacteria on the teeth could cause.
We also remember that periodontitis is one of the main causes of tooth loss and more, it is in fact linked to the possibility of developing other serious diseases such as cardiovascular dysfunction or brain abscesses.
Regular consumers of this type of narcotic substances have a twenty times higher risk of developing diseases such as those listed above compared to cigarette smokers.
As with all dental diseases, prevention is still a fundamental element, if you consider yourself at risk it is advisable to arrange a check-up as soon as possible.
In fact, periodontitis does not always manifest itself with visible symptoms and a visit to the dentist could be an opportunity to start a treatment that can prevent the disease from degenerating in time.
https://www.sanident.com/wp-content/uploads/2016/07/Cannabis-e-parodontite.jpg
300
855
Redazione
https://www.sanident.com/wp-content/uploads/2020/05/Logo_Sanident_2_600.png
Redazione
2016-07-26 10:57:13
2020-03-05 11:15:22
Smoking cannabis increases the chance of periodontitis