In our centers in Milan and Naples we deal with zygomatic implantology.
Zygomatic implantology is the solution for those who have little bone in the upper jaw and still don't want to give up having fixed teeth.
If you have severe bone atrophy, you are not necessarily destined for the use of dentures and you could avoid resorting to complex and invasive procedures such as bone grafting and bone regeneration.
The procedure of a bone graft consists in taking part of the bone from the patient's hip and implanting it in the mouth, the whole process which then leads to the possibility of inserting the implants on that bone lasts about a year. So in addition to undergoing bone transplantation, the permanence of edentulia (the absence of teeth) is prolonged for a very long period.
There is a way to avoid all this, it is precisely the innovative surgical technique of zygomatic implantology, capable of solving serious problems of maxillary atrophy, and which we perform in our center in Milan and now also in the new center in Naples.
What is an operation of zygomatic implantology
The advantage of a zygomatic implant surgery consists in the possibility of anchoring the implants directly to the cheekbone. This innovative surgical technique allows the insertion of fixed teeth in a day and without any particular trauma just like for immediate loading implantology.
Post-surgery pain tends to be irrelevant: it can be easily eliminated with a normal ibuprofen-based tablet, the same one you use for headaches.
Since this is a particularly innovative and complex operation, there are few centers like ours that are able to perform such a treatment.
Implantologia zigomatica: quali rischi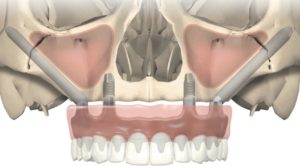 La prima applicazione dell'implantologia zigomatica è stata praticata nel 1987 dall'implantologo Branemark. Fu infatti il primo a inserire impianti zigomatici per le riabilitazioni dentarie dell'arcata superiore.
Ai suoi esordi questo tipo di tecnica operatoria era utilizzata soprattutto per quei pazienti che erano stati sottoposti a importanti resezioni ossee in seguito a chirurgia oncologica.
Oggi, a distanza di più di trent'anni, il panorama delle possibili applicazioni terapeutiche si è ampliato di molto, rendendo l'implantologia zigomatica una delle migliori alternative alla tradizionale chirurgia ossea in casi di seria atrofia mascellare.
Gli impianti in titanio vengono ancorati nelle ossa dello zigomo per fare in modo che i denti protesici dell'arcata superiore abbiano uno stabile supporto. In questo modo, in un solo atto chirurgico, è possibile ottenere una riabilitazione a carico immediato.
La letteratura scientifica che raccoglie gli studi sull'implantologia zigomatica indica la percentuale di successo di questa tecnica tra il 98 e il 100%, con una misurazione a 5 e a 10 anni.
Non si evincono particolari complicanze, sono state rilevate lievi e temporanee conseguenze collaterali quali: la sinusite (5-10 % dei casi) e la sensibilità alterata nella zona cutanea dello zigomo (5% dei casi); risolvibili nella grande maggioranza dei casi con appropriate terapie.
Implantologia zigomatica: i vantaggi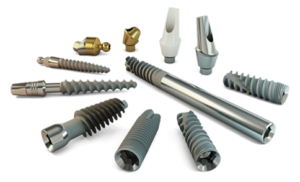 In presenza di una scarsa quantità o addirittura in assenza di osso mascellare superiore le vie da percorrere possono essere due: l'innesto osseo e l'implantologia zigomatica, nel nostro centro a Milano siamo in grado di percorrere entrambe le strade, ma prediligiamo la seconda soluzione.
I vantaggi dell'implantologia zigomatica rispetto all'innesto osseo sono molteplici: in prima battuta la percentuale di successo, l'impianto zigomatico ha un successo al 98% rispetto all'80% dell'innesto osseo.
In secondo luogo e non meno trascurabile: la durata dell'intervento. Come abbiamo già avuto modo di spiegare nelle righe precedenti, si ha una riabilitazione in 24 ore nel caso dell'implantologia zigomatica e in un anno per l'intervento con innesto osseo.
L'implantologia zigomatica non lascia alcun segno sul viso, nessuna cicatrice, perché gli impianti, come nel caso del carico immediato, vengono inseriti dall'interno della bocca.
In sintesi, l'implantologia zigomatica è una soluzione terapeutica altamente performante capace di risolvere il problema del paziente in pochissimo tempo.  Vantaggi che rendono l'innovativa tecnica operatoria molto apprezzata in ambito clinico. Contattaci per avere maggiori informazioni o per fissare una visita preliminare.
Enter your details and you will be contacted as soon as possible for a specialist visit and a free quote