Zirconium prosthesis for implantology: advantages
Zirconium prostheses are considered an element of excellence in the field of implant surgery, especially in the case of single elements or in any case in the presence of adjacent natural teeth. Often the presence of zirconium prostheses raises the price of preventive for implantology, but the advantages for the patient can be manifold.
Zirconium prosthesis: the properties of the material
The application of zirconium in the medical field dates back to the decade between 1960 and 1970, the first use was in the orthopedic field, for the realization of hip prostheses. Subsequently its application has expanded into other branches of medicine, including dentistry.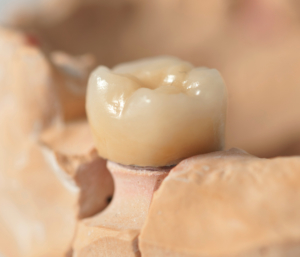 Zirconium is a widespread mineral in nature, it is a white metal from which zirconium oxide or zirconia is obtained, a particular ceramic that has the following characteristics:
extreme resistance
anticorrosive
ductility
biocompatibility
Resistance
A zirconia prosthesis has a high resistance to chewing loads and therefore has a longer life span.
Anti corrosive
Zirconia prostheses, thanks to their properties, resist to acid attacks and are therefore less subject to wear.
Ductility
Ductility allows zirconia to be worked, which is why it is possible to create custom zirconium prostheses.
Biocompatibility
Biocompatibility, as for the titanium of the vine, allows it to integrate perfectly with the human organism, respecting soft tissues and mucosa of the oral cavity.
Zirconium prosthesis: high-level aesthetic results

Zirconia implants have translucent properties, which makes them particularly similar to natural teeth.
The color of the prosthesis can be customized in the laboratory, making it completely equal to that of the natural color of the patient's teeth, the further advantage is that the color of the zirconium prostheses remains unchanged forever.
The high cost of zirconia prostheses derives precisely from the complexity of the manufacturing process in the dental laboratory. The finishes of a zirconium prosthesis require high levels of competence, time, equipment and skills. In fact, in the laboratory it is possible to define with precision the color, the brightness and the veining of the prosthesis with a high aesthetic result. Often, however, zirconia can be covered with a ceramic layer to offer the best aesthetic results.
This is why a zirconium crown exceeds, in terms of price, a traditional crown in ceramic metal.
How long does a zirconia prosthesis last?
Zirconia is a material without porosity, therefore very simple to clean and with little possibility of being attacked by acid substances or bacterial plaque.
This certainly affects its long life, but as with all dental prostheses it is always advisable to undergo periodic checkups and do not neglect the care of the installation or of the natural stump and daily hygiene.
https://www.sanident.com/wp-content/uploads/2019/07/zirconia_denti.jpg
300
855
Redazione
https://www.sanident.com/wp-content/uploads/2020/05/Logo_Sanident_2_600.png
Redazione
2019-07-23 19:36:15
2019-12-04 11:27:03
Zirconium prosthesis for implantology: advantages